Blog
Creative collaborators - a day in the life of our Tax, Trusts and Pensions teams
We talked to three of our colleagues Dan Wilton, Natalie Galvin and Steve Woodham who work within Wealth Management in the Tax, Trusts and Pensions teams.
Collaborative working is Old Mill at its best and this is exactly what these individuals demonstrate day to day. By working innovatively together we can offer our clients real added value whilst enjoying the challenge and creativity such work brings.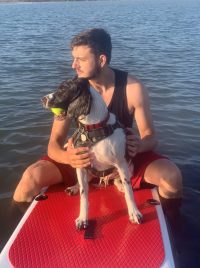 Introducing Dan, Natalie and Steve…
Dan Wilton: An Arsenal supporter, new dad and a keen volleyball player, Dan is a tax senior in the Personal Tax team and has been with Old Mill for seven years.
Natalie Galvin: A keen foodie, Natalie joined Old Mill in 2008 and now heads up the Trusts team supporting 500 trusts.
Steve Woodham: A baritone and trombone player, dad to three girls and a keen pool player, Steve has spent 32 years working with pensions, 15 of those at Old Mill. Steve heads up our Pensions team and is also the Head of our Wells office.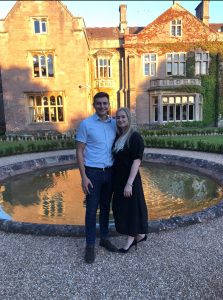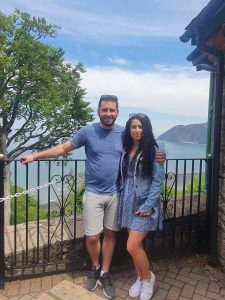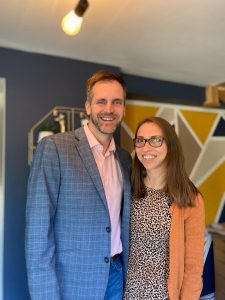 What does a typical start to your day look like?
Dan: The day for me normally starts by getting into the Yeovil office or at the moment heading into my home office to begin work for 8.30am. If I'm honest, I'm not an early morning person, so there's no big morning routine! I'll then open my emails to see what has come in overnight, make my priority list and start the day.
Natalie: My morning normally starts with a workout; I spend a lot of time in front of a screen during the day so it's important to get moving first thing. I then have breakfast and turn on my computer ready for the day ahead, I'll generally answer emails when I log in and have my to-do list ready to go for the day.
Steve: As a dad to three young daughters, I start the day at 6.45am, shower and get the girls their breakfast. My wife, Charlotte, then takes over and takes them to school and I start my working day at 8am. I tend to work better in the mornings and do sometimes get up at 6am to do an hour before breakfast. Old Mill has been brilliant with flexible working and allowing us to have that flex of what suits us and our families, as long as we're here to support our clients.
What is your role within the team?
Dan: My role is split into three parts, preparing tax or property returns, reviewing work for my colleagues and then advising clients and colleagues with any queries or questions they have. We currently have an influx in property returns due to the Stamp Duty Land Tax holiday. We have a 30-day window to submit them so it can get pretty hectic at times! The work in our team is very seasonal with a very busy January due to personal tax returns, and then a real mix of everything else throughout the rest of the year.
Natalie: We look after 500 trusts within our team, and I work closely with other teams when looking at the trust tax return element to make sure everything is reported correctly. I also work closely with my financial planning colleagues on estate dealings through our Estate Administration Service which we launched recently. It has been really interesting taking on this new project and seeing it thrive whilst developing my relationships with colleagues.
Steve: I head up the Pensions team and we speak every day at 10am where we talk about our priorities, client work and any upcoming meetings. Throughout the year I have annual reviews with the majority of the 100 Small Self-Administered Scheme (SSAS) clients I look after, which equates to one or two client meetings per week, these are generally held with a financial planner or an accountant and form a part of a larger overview annual meeting for a client. Throughout this past year all our meetings have been via Teams so I'm really looking forward to starting those face to face once again. Within the course of a month, I generally have about two/three prospective client meetings, internal meetings with colleagues as well as training for the team. With my new responsibilities as the Wells office head, I hope to split my time between both our Wells and Yeovil offices which will help to increase my visibility and also help to raise the profile of our Pensions team.
How do you work with other areas of the business?
Dan: I work with the whole business at varying points, I'm always answering questions for the advisers and their teams as we tend to deal with a lot of their client's personal affairs. When I'm in the office, I'll always have people walking past my desk to ask a question, at the moment it's a Teams call or message that pops up which keeps me connected to the wider business.
Natalie: I work alongside the Personal Tax team, which means I work closely with Dan. I spend my days looking after trusts, but a lot of our clients also use other services within Old Mill. To make sure we keep a consistent approach to their affairs, I keep in touch regularly with their advisers. The majority of work that comes through into our team is referrals from other teams, especially our growing tax team.
Steve: Working with the wider business is a fundamental part of my role, I attend weekly financial planner meetings, as well as regular meetings with the accountants. A lot of my work comes from those referrals and it's important to maintain those relationships in order that we can highlight opportunities to benefit our clients.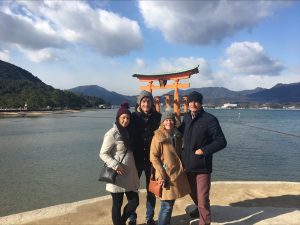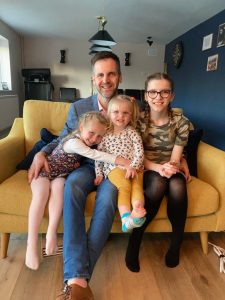 Why Tax, Trusts and Pensions?
Dan: I really enjoy problem solving and working in tax fulfils that purpose because it's always changing and there are always different queries from clients and colleagues. I also love working with people and this role certainly fulfils both of my passions.
Natalie: I joined Old Mill originally after a week's work experience in the owner managed businesses team, before moving to rural and then onto the Trusts team which I now manage. Trusts is a niche area and its great to be able to provide the advice and support that clients need in this area. To further support this, I have studied throughout my time here, completing my accountancy exams before doing my STEP qualification to get that particular expertise in trusts and continued professional development.
Steve: I started in pensions in 1989 when I was 17. I remember when I was 15/16 we did a careers day at school and because I was always good at maths and figures they recommended that I join SunLife, there I joined their pensions team and I haven't looked back! I really enjoy being a specialist and getting into the detail, and
with a passion for figure work and projections, it's really fulfilling to see a pension grow and ultimately how it will benefit the client as they head into retirement.
What helps you unwind?
Dan: My partner, Emilie and I have just had a baby girl so we're just getting used to transitioning into a family of four along with our springer spaniel, Bennie. Bennie gets us out of the house for regular walks, and always helps to reset the mind. We're both keen football fans although we don't support the same team, which can be interesting on match days! I also like to attempt to play most sports, and am a keen volleyball player, even appearing in the Old Mill team!
Natalie: Going out for food and drinks with friends and socialising. I'm a big foodie, so going out for dinner and trying new foods always appears high on my list! At the moment, where we're all working from home, I do try and get out of the house on an evening, usually a trip to the beach for a walk with my partner, Josh, to help transition the day. I also like to get stuck into a good book. I'm very much looking forward to being able to travel again and visit some new places.
Steve: I always try and finish between 5pm and 5.30pm so that I can get a couple of hours with the girls before bedtime. In the evenings, during lockdown I spent a lot of time playing pool with people all throughout the UK via zoom, playing in four different leagues. When not playing pool, I spend time with Charlotte catching up on our favourite TV series, Line of Duty. I love music and I'm currently trying to re-learn the trombone!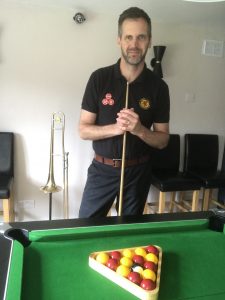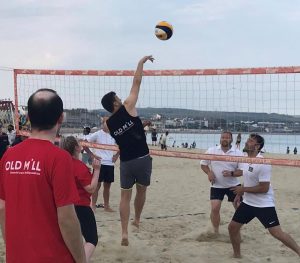 How have you found working from home and still being able to engage with your team and the wider business?
Dan: Working from home has been good but I really miss relationship building face to face, it's not quite the same behind a screen, however the flexible working has been great. January in lockdown was really challenging and we had the COVID-19 tax return extension, plus the 30-day property return that was added in too, so it's certainly been busy, the equivalent of Black Friday but for tax! I'm proud of how we've worked together as a team and been able to use technology to continue our relationships with the wider business.
Natalie: It has definitely been harder, you have to make a conscious effort to speak to other people, whereas in the office there's just such a natural crossover and conversation as you walk around the office. As a team we're definitely looking forward to bringing back the social element!
Steve: It has definitely been different, but we've worked hard in our team to maintain regular contact and to keep morale high. Teams has been a lifesaver and although you can't beat face to face contact, it certainly has its place and has kept us connected with clients and with our colleagues and for that I'm thankful.