Blog
Meet our artistic apprentice Megan Wise
'As soon as I walked into the building, I knew I wanted to work here' was the reaction from Megan, one of our apprentices in the Yeovil rural team.
Megan's first experience of Old Mill was at her interview day when she joined a number of other candidates for a day of group activities, team tasks, soft skills and an interview; resulting in her securing an apprenticeship.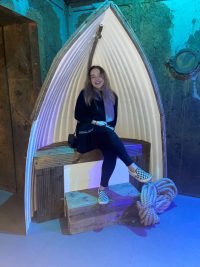 'I remember the call coming through from Kirsty in recruitment and I had to ask to be excused from my lesson at Yeovil College, it was the best call I could've hoped for and I was so excited to start my journey at Old Mill in September last year.'
Coming from a rural area and spending her childhood horse riding, Megan was equipped with an understanding of the rural community, but it was just the beginning of her learning as she joined our specialist rural team where she's had a huge learning curve in the short time she's been here.  'I've been working closely with my buddy Liz, who has helped train me from day one, she's been an important part of my development and I can now start to work on jobs independently which is such a good feeling.'
Megan knew she always wanted to work with numbers, after completing A-levels in economics, accounts and psychology and an AS Level in photography, 'it was the natural fit for me to look for a career working with numbers.'
Megan also has an artistic side and spends time outside of work on her art, painting and photography. Her love of painting a picture also plays into her work, 'I really enjoy piecing things together and being able to tell a story by looking at the numbers and talking to clients. It's a real creative collaboration bringing my skills together.'
Starting her apprenticeship in March, Megan will go to Yeovil College every Wednesday studying for her AAT Level 3, working towards her first exam in June this year. 'I really wanted to do an apprenticeship so I can learn on the job, whilst gaining experience. My brother completed an apprenticeship and shared the value of this route, it was a no brainer for me.'
Sociable Megan is also part of Yeovil's social committee, so this is a natural fit in promoting the events and wellness activities that they regularly put on.
'My gut feeling about Old Mill was absolutely right, everyone is so friendly in my team, when I speak to others in the business and clients, I always get such a warm welcome, Ian our MD even brought round donuts on the 31 January!'
Good luck with the start of your apprenticeship Megan, we look forward to seeing your artistic flair shine through.
'As soon as I walked into the building, I knew I wanted to work here'
---
Megan Wise