Blog
Meet apprentice and Junior Adviser Chris Clarke
'Becoming an adviser is my end goal, being that go-to person for a client is something I'd really value' comments Chris as we talk about his route from apprentice through to his current position as a Junior Adviser.
Chris is ambitious, passionate and that really comes across as you talk to him about his journey at Old Mill. From joining two and a half years' ago, as an apprentice in the Yeovil Owner Managed Business Team, he's thrown himself into everything Old Mill has to offer.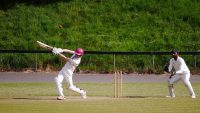 But why an apprenticeship?
'The biggest appeal for me, was gaining real life work experience alongside a qualification and not leaving university with a large student debt.'
Chris goes to college one day a week and started his journey studying for his AAT Level 3, this resulted in six exams in total and a portfolio which showcased both his technical and soft skills to complete his apprenticeship.
Graeme Tate, AAT Course Manager at Yeovil College comments 'Chris produced an excellent portfolio of work-based evidence and, as Chris' assessor, what impressed me the most was Chris' ability to explain and demonstrate his understanding of Old Mill's policies, processes and how his role is vital in helping Old Mill achieve their objectives. Chris was also able to explain and add context to the above in an engaging manner whilst we were preparing for the professional discussion.  The mark achieved in the professional discussion (with an independent assessor) provides further evidence of this.  I am confident that Chris will continue to transfer these skills into the workplace making him a valuable team member and well respected by clients.'
It's not just the study which Chris enjoys, the support of his team is a crucial part of his day to day and the client relationships that he's been developing have really stood out. 'I love working and interacting with clients, finding out about their businesses and ultimately how we can help.'  Chris spends his time interacting with clients over the phone and whilst on audit, this enables him to get that exposure into their businesses which really helps bring his technical and advisory experience together. 'The best thing about going through an apprenticeship is looking back and seeing how far you've come. It's a great sense of achievement when you are doing something that a year ago seemed a real challenge and now it's part of my day to day.'
Chris is an energetic go-getter and whether that's on the football pitch or playing cricket his sociable side shines through. This plays to his strengths in the office, his interest in the business development side of his role and his ambition within the junior adviser programme. With support from Old Mill, it has helped to fuel Chris's ambition, as the youngest member on the Junior Adviser Programme he is really looking forward to the future, finishing his AAT Level 4, ATT and then onto his ACA qualification.
Good luck, Chris!
'Becoming an adviser is my end goal, being that go-to person for a client is something I'd really value'
---
Chris Clarke
---