Blog
National Apprenticeship Week - Meet Chloe Talbot-Swain...
Business Apprentice of the Year in 2020 and AAT trainee in our Wells Owner Managed Businesses (OMB) team, Chloe really brought it home to me with how apprenticeships have changed over the years. There's a common misconception that apprenticeships are for hairdressing, mechanics or engineering but that's simply not true. They are now used for so many professions, bringing that fantastic balance of working and learning together.
Let's get to know Chloe…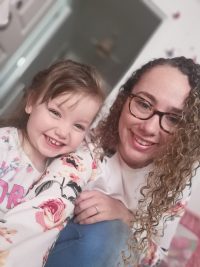 Chloe, when did you join Old Mill?
I started in July 2018 as an AAT trainee, coming straight from college into a trainee role joining the OMB team in Wells, I then started studying towards my apprenticeship shortly after in September 2018.
Why did you decide to go down the apprenticeship route?
I wasn't really planning on going down this route initially, after finishing my A-Levels in Law, Maths, Business and AS-Levels in Psychology and Economics at Strode College, I had always thought about going to university to study Law. But after reconsidering my options and realising that it would be a long period at university and considerable debt, a friend of mine suggested the trainee position at Old Mill.
I always thought the only way to keep studying would be by going to university, so it was refreshing to learn that I could still continue to study and earn whilst working in a professional environment.
What's been your highlight so far?
Winning Yeovil College's Business Apprentice of the Year 2020 at their Shining Stars awards was a real highlight last year, I was really proud to be nominated and delighted to win. Studying via an apprenticeship has been such a great experience and because you create a portfolio during your studies, you get to apply all your learnings to the day job which the college then verify so you're always accountable for your own learning and development.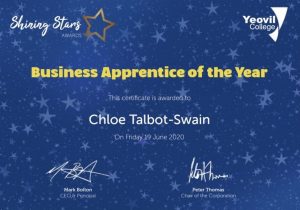 Alongside your study and work, what else do you enjoy doing?
Pre lockdown I used to play badminton regularly and pool, I also have a four-year-old sister called Ebony who keeps me entertained and two dogs Coco and Kissie. Spending lockdown with my mum, sister and dogs has been busy, so I like to read to shut off and relax at the end of the day.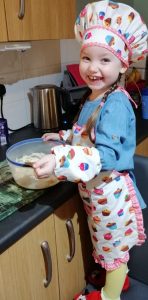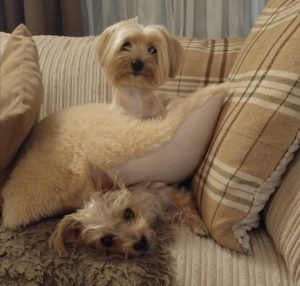 Do you have any top tips for us, on how you've managed during lockdown?
College work has kept me really busy, but I have started working out due to all the fairy cake baking with Ebony, as well as learning sign language which has always been a personal goal of mine.
And final question, do you have any TV recommendations for lockdown?
Amazon Prime: Carnival Row
Netflix: Tiny Pretty Things & Friends, I watched it for the first time during the first lockdown!
Thanks for speaking with me Chloe, congratulations on your award, a fantastic achievement!
If an apprenticeship sounds like something you'd want to find out more about, and you're looking for an opportunity to launch and develop your own career, head to our jobs page to find out more.