Blog
National Apprenticeship Week - Meet Tori Pike...
With a background in Biochemistry, hospitality and customer service, Tori has had quite the experience before joining Old Mill as an AAT trainee in our rural team in Melksham. Here she talks to us about her career ambitions, studying, a loft conversion and her love of superheroes, all whilst raising her two young daughters.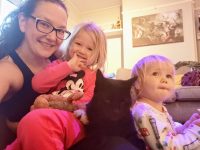 Tori, tell us about how you got into studying for your AAT with such a mixed background?
After passing my A-Levels, I went straight to Bath University where I studied Biochemistry, graduating when I was 21. I then had a complete change of direction and worked in hospitality and customer service for many years, during this time I began studying for my AAT whilst working at Wetherspoons where I was training to be a manager. I really liked doing the number side of the work, balancing tills etc and at that point I had the flexibility to be able to study around work.
After a period there I moved into an administration and finance role at Trowbridge Rugby Club where I funded myself through my Level 2 and 3 AAT apprenticeships, studying and attending college in my spare time. When I reached Level 4, this is where I decided that I wanted to pursue a career in accountancy whilst still being able to study towards my qualification. I saw the vacancy at Old Mill in the rural team in Melksham and decided to apply…
How has the balance of study and work changed since you've been at Old Mill?  
Life is a little different now, aged 32, I have two girls, Tilly aged three and Phoebe who is one, and I balance my home life with working and studying too. I joined Old Mill back in July 2018 when Tilly was just one, and at this point I was already one module into my Level 4. I continued working through my Level 4, until I went on maternity leave in May 2019 with my second daughter Phoebe, even sitting my 'Financial Statements of Limited Companies' exam at 36 weeks pregnant. I was very relieved to find out I passed with 98%!
Returning from maternity leave in July 2020 things were very different with everyone working from home. I had two exams left to sit, which I self-studied at home with the support of White Horse Training, sitting my last exam in October. I was delighted to gain a distinction for my apprenticeship and averaged 94% in the Level 4 exams.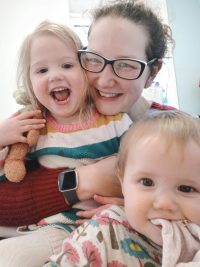 How do you manage work with studying and having two children?
I'm really organised and I'm very lucky that I'm able to pick things up really quickly. I utilise my time throughout the day and use lunch times to practice questions, as well as studying when the girls go to bed in the evenings. I'm also really lucky to have my mum on hand to babysit, so I could take the time to really focus on my studies.
I've always been a believer in that if you really want to do something you find the time, I'm a bit of a perfectionist at heart and always wanting to improve and learn.
So what's next for you?
I find the work at Old Mill really interesting and it's great to be able to put into practice what I'm studying. My goal is to be the go-to person who has the answers within our team, I want to keep learning and start studying towards my next qualification.
So in-between, work, study and mum life, what do you do for you?
Since having Phoebe I joined a gym in Trowbridge which focuses on the wellbeing of mum's and their babies. Fitness is definitely my 'me time' and before returning to work I managed to lose 25kg, which I now maintain with an active lifestyle. At home we are also doing up our property, and in the process of converting our loft! It's certainly busy!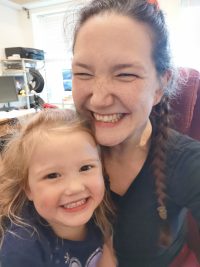 And how has lockdown been for you?
Lockdown has mainly been keeping the girls entertained and getting outside to clear the head when it all gets too much! I try to keep my day as structured as possible so I can get my work done and then have dedicated time with the girls.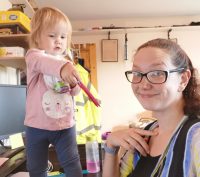 And lastly, do you have any book or TV recommendations?
I'm afraid I mostly watch Hey Duggee and read Little Miss books! But when I do get an hour or so to myself, I like anything with superheroes or anything supernatural, so WandaVision and Sabrina are my go to recently.
Thank you so much for speaking with me Tori, good luck with the rest of your studies, I don't know how you manage to balance everything! You're definitely an Old Mill superhero!
If an apprenticeship sounds like something you'd want to find out more about, and you're looking for an opportunity to launch and develop your own career, head to our jobs page to find out more.