Blog
Old Mill launches The Old Mill Fund
We have created a new home for our charitable giving by partnering with Somerset Community Foundation (SCF) creating The Old Mill Fund. Our fund awards grants to grassroots good causes across Somerset, Devon and Wiltshire, where our four offices are based.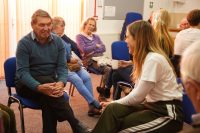 We have a strong history of giving back to our local communities, and over the years, we have raised hundreds of thousands of pounds for local causes and groups.
The Old Mill Fund builds on this further and makes a long-term strategic commitment to help small, local charities based in the communities where our staff and clients live and work.
The fund will focus on three key areas of need which have been identified by SCF:
Building brighter futures – helping young people to build skills, confidence and resilience and succeed at school and beyond
Reducing rural loneliness –supporting activities that reduce loneliness and help to improve physical and mental health
Strengthening communities – supporting projects that bring people together and build strong, supportive communities that help the most disadvantaged
We will contribute regularly to the Fund, individuals can donate, and any money raised through fundraising by staff at our four offices in Wells, Yeovil, Melksham and Exeter will also be added.
Twice a year Somerset, Devon and Wiltshire Community Foundations will put forward grant applications submitted by inspiring local projects and staff from each of the four offices will choose the projects they'd most like the Fund to support.
The first four projects to be selected were;
The Lawrence Centre in Wells, which provides activities and companionship for older people
The Sunningmead Community Association in Tiverton, Devon, to fund the creation of a community garden by and for local young people to grow their own fruit and vegetables
Melksham Ability Counts, a football club for adults with disabilities
aka Dance, a performing arts group based in Taunton. The aka Dance grant will support a project to give local isolated and less mobile people the chance to take part in exciting dance and theatre projects.
Kevin Whitmarsh, Old Mill board member and founder of The Old Mill Fund said: 'Integrating ourselves within our local communities, supporting good causes and giving back wherever we can has always been a key part of what we do. The Old Mill Fund takes that even further, enabling us to make a long-lasting commitment to identify those smaller, grassroots charities that are vital to the local community and give them the financial support they need to continue the invaluable work they do.'
Laura Blake, Development Director at SCF added: 'We are incredibly proud of our partnership with Old Mill which will unlock vital funding and skills for local good causes. The Old Mill Fund builds on many years of the firm providing generous support for local charities and a real passion for the communities they serve, and we are greatly looking forward to making a lasting impact together.'
Kim, who is mum to three-year-old Freddie, uses her professional skills and her experience as a mum to help write blogs and online content to help other mums.
'Volunteering in the communities that we live and work in helps build up long-lasting relationships and that is truly at the heart of everything we do. And for me personally, being able to use my professional skills in this way is a great way for me to get involved with and help a cause that I am really passionate about.'
Click here to find out more about The Old Mill Fund, make a donation or to apply for a grant.