Blog
The Old Mill Fund supporting Elim Connect Centre
We set up The Old Mill Fund at the end of last year to help formalise our commitment to investing in local charities, community groups and individuals within the South West. Our focus is on three key areas; building brighter futures, reducing rural isolation and loneliness, and strengthening communities. We were delighted to support the Coronavirus Appeals in Somerset, Devon and Wiltshire as part of our Fund and wanted to share some of those stories from the charities and support groups that our fund has helped. Our story below is from Elim Connect Centre in Wells.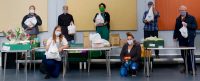 Elim Connect Centre
Elim Connect Centre in Wells delivers a series of projects and services to support local people experiencing a range of issues including mental health problems, social isolation, poverty and homelessness.
Stephen Fowler from the charity tells us how funding from The Old Mill Fund and Somerset Coronavirus Appeal has helped them to get vital meals, supplies and support to those in need.
'We have kept the Connect Centre open during these strange times as a community hub, but partly in a more virtual way. The team at the centre are working closely with Wells Coronavirus Network volunteers and related organisations to help them:
drop off provisions and deliver food and essentials to the people in the most need
support rough sleepers by placing them in temporary accommodation
move their counselling service online (with 10 counsellors delivering 26 online or phone sessions per week).
We're cooking and delivering hot meals on Wednesdays in place of our usual community lunch and are now sending out more than 80 hot two-course meals in a day. Local supermarkets and others have been generous with food and most days we have just enough.
We're also supporting rough sleepers who are in temporary accommodation and those who are not, in addition to working closely with Mendip District Council to help prevent more homelessness. Our laundry and shower facilities remain open to for those who need them.
We are also planning to deliver pizzas or takeaway vouchers to people and families who are most in need as a morale-boosting treat. This is not a substitute for basic food, but simply a treat – perhaps a weekend event for those on a very tight budget. In times of challenge we all need an extra to bring some hope and cheer. 
The Grant from SCF has enabled us to continue this vital work and we are hugely grateful.'