Blog
The Old Mill Fund supporting Wells Vineyard
We set up The Old Mill Fund at the end of last year to help formalise our commitment to investing in local charities, community groups and individuals within the South West. Our focus is on three key areas; building brighter futures, reducing rural isolation and loneliness, and strengthening communities. We were delighted to support the Coronavirus Appeals in Somerset, Devon and Wiltshire as part of our Fund and wanted to share some of those stories from the charities and support groups that our fund has helped. Our story below is from Wells Vineyard in Wells.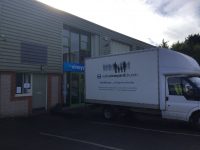 Wells Vineyard
Wells Vineyard Foodbank supports vulnerable people experiencing poverty in Wells. Sue Marland, Pastor at Wells Vineyard Church, told us about how funding from The Old Mill Fund and Somerset Coronavirus Appeal is helping them get vital food parcels to those in need.
'During the lockdown, we've seen an increase in demand and more people coming to us for help. In January, we gave out food equating to 756 meals, and by the end of April, this had almost doubled to 1416 meals.
The inevitable decrease in food donations from the public has been outweighed by a significant upturn in financial donations. The ongoing generosity of the public has, therefore, made it possible for us to continue purchasing food items and meet the rising demand during the coronavirus crisis.
Many of our regular volunteers are over 70, so they've had to step back from the foodbank, but fortunately our younger volunteers, who usually work during the week, have really stepped up so we can sustain our support, including increased deliveries of food parcels.
We're very thankful for the generous funding to help us meet rising demand during the coronavirus crisis.'