Blog
The Old Mill Fund supporting Yeovil Community Meals
We set up The Old Mill Fund at the end of last year to help formalise our commitment to investing in local charities, community groups and individuals within the South West. Our focus is on three key areas; building brighter futures, reducing rural isolation and loneliness, and strengthening communities. We were delighted to support the Coronavirus Appeals in Somerset, Devon and Wiltshire as part of our Fund and wanted to share some of those stories from the charities and support groups that our fund has helped. Our story below is from Yeovil Community Meals.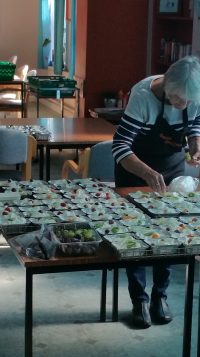 Yeovil Community Meals
Yeovil Community Meals Service is a charity that delivers freshly cooked hot meals to vulnerable people in Yeovil.
The coronavirus outbreak has seen an increased demand for their service with a need to provide meals seven days a week instead of five.
Penny Mitchell from the charity told us how the grant has funding from The Old Mill Fund and the Somerset Coronavirus Appeal has helped them hire an extra chef and driver so they can help more people in need.
'Almost overnight, we've had to increase our meal deliveries by about 50% due to increased demand. Many older people to whom we deliver are in their 80s and 90s and are usually looked after by family members who, due to lockdown restrictions, haven't been able to travel or have health issues of their own. Some, for example, have been discharged from hospital and aren't physically ready to cook for themselves. The care system is also experiencing staff shortages which impacts those we help as their carers can't come in and cook for them as they normally would.
We offer a seasonal, traditional menu which changes weekly. We cook everything fresh, with favourites like casseroles, chicken pie and cottage pie with as much fresh veg as possible. They also get a pudding and our meals are delivered to them hot in a safe and socially distanced way. 
It's been a challenge to source the food at the moment but supermarkets have been great at bringing surplus produce and items we've struggled to source. It means we are having to get creative and work with what we can find and that those we deliver to are trying new things!
The funding from SCF has been brilliant and meant we could take on more drivers to help us meet demand and make sure all our meals get there hot. It's also helped to cover the extra food and fuel costs. It means we haven't had to increase the prices of our meals and break into our reserves, which is important as we know that the need for this expanded service will be long-term. 
I honestly don't know how people would cope if we weren't there – we're the only hot, fresh meal many older people get. We're proud that every person we support receives a meal that is personal to them and made with love and care.'