Blog
Working for the Old Mill Commercial Team
By joining the Commercial Team at Old Mill, you will become part of an established, respected accounting and financial adviser practice working with ambitious owner-managed businesses.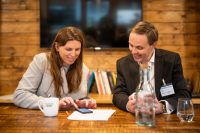 What to expect
Chris Clarke, Junior Adviser
'Old Mill are putting me through my qualifications that set me up to work for the Commercial Team. Alongside this, I speak with the owners and financial directors to field questions and help them with day-today queries. Today I have reconciled the paperwork for a packaging company and reviewed it for any errors or opportunities to feedback to the client'.
Lorraine Bolland, Qualified Accountant and Adviser.
'With the information provided by Chris, I can review the company's financial position, advise on the mitigation of tax and work with the client to achieve their future goals'.
Stephen Martin, Specialist Adviser in Tax
'Because of my commercial tax specialism, I also review the client reports to advise on any further tax opportunities that may be available to the client'.
Anthony Hawes, Commercial Financial Planner
'Once the gains have been calculated there is a matter of what to do with it, that's where I come in to help the client decide on the best course of action for their personal and business funds'.
Phil Mills, Head of Commercial
'As a team, we work together to provide a wholistic and joined up advisory service to our commercial clients'.
We can make a difference for our owner-managed business in order to achieve their goals. Our knowledge and specialism in unique areas contribute to our client's business success and personal growth.
Contact Us
We are always looking for new recruits to join the team and improve our service to clients, if you want to find out more email us enquiries@om.uk